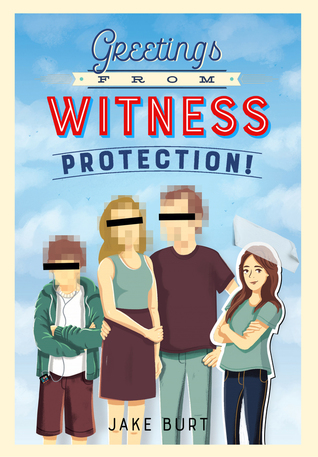 Description:
Nicki Demere is an orphan and a pickpocket. She also happens to be the U.S. Marshals' best bet to keep a family alive. The marshals are looking for the perfect girl to join a mother, father, and son on the run from the nation's most notorious criminals. After all, the bad guys are searching for a family with one kid, not two, and adding a streetwise girl who knows a little something about hiding things may be just what the marshals need.
Nicki swears she can keep the Trevor family safe, but to do so she'll have to dodge hitmen, cyberbullies, and the specter of standardized testing, all while maintaining her marshal-mandated B-minus average. As she barely balances the responsibilities of her new identity, Nicki learns that the biggest threats to her family's security might not lurk on the road from New York to North Carolina, but rather in her own past.
Review:
Greetings from Witness Protection!
is a delightful balance of mystery, humor, and heart. Nicki Demere has been living in foster care ever since her father was arrested, biding her time until her father comes to bring her home. She has been trained by her Grammy to an expert pick pocketer with a keen eye on people watching. She records her stories in hopes of relaying them and connecting to her father, but he never comes. The FBI agents arrive first and they want Nicki to be part of an inaugural program that trains and places selected foster children with families under witness protection, thereby changing the nature of the families' makeup so they are harder to track down. When she learns that her father was recently released from jail and has no desire to contact her, Nicki reluctantly agrees. Besides she gets a do-over with a new family. Maybe for once she can be normal.
I loved Nicki. She is snarky and hilarious. Despite her tough exterior, she finds herself building bonds and connecting with the new people in her life: shy gamer Britt who is bullied by her classmates, perky yet lovable student council member Holly, and, most of all, her new family, even her sullen "brother" Jackson. I loved how she helped those around her and used her skills for pick pocketing for good. Interspersed with Nicki's ordinary life as a middle schooler, we get a mystery woven throughout as the infamous mafia is out looking for the Trevor family. The book handles tough topics such as foster care, bullying, anxiety, and what makes a real family quite nicely and balances it with humor to keep the story afloat.
Rating:
4 stars
Words of Caution:
There are some disturbing, violent images. Recommended for Grades 5 and up.
If you like this book try:
Gallagher Girls series by Ally Carter