Unlike many readers I did not care for Marie Lu's
Legend
series. I thought
Legend
was too plot driven and shared too many similarities with the Hunger Games series that I had a really hard time enjoying
Legend
on its own. I do, however, continue to book talk
Legend
and its sequels to my students. The series has circulated really well in my library. Personally, I am liking her Young Elites series much more.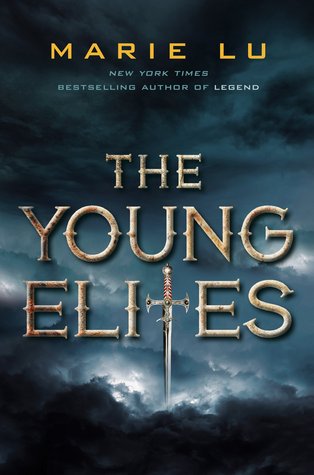 Description:
Adelina Amouteru
is a survivor of the blood fever. A decade ago, the deadly illness swept through her nation. Most of the infected perished, while many of the children who survived were left with strange markings. Adelina's black hair turned silver, her lashes went pale, and now she has only a jagged scar where her left eye once was. Her cruel father believes she is a malfetto, an abomination, ruining their family's good name and standing in the way of their fortune. But some of the fever's survivors are rumored to possess more than just scars—they are believed to have mysterious and powerful gifts, and though their identities remain secret, they have come to be called the Young Elites.
Teren Santoro
works for the king. As Leader of the Inquisition Axis, it is his job to seek out the Young Elites, to destroy them before they destroy the nation. He believes the Young Elites to be dangerous and vengeful, but it's Teren who may possess the darkest secret of all.
Enzo Valenciano
is a member of the Dagger Society. This secret sect of Young Elites seeks out others like them before the Inquisition Axis can. But when the Daggers find Adelina, they discover someone with powers like they've never seen.
Adelina wants to believe Enzo is on her side, and that Teren is the true enemy. But the lives of these three will collide in unexpected ways, as each fights a very different and personal battle. But of one thing they are all certain: Adelina has abilities that shouldn't belong in this world. A vengeful blackness in her heart. And a desire to destroy all who dare to cross her.
Review:
There have been many books written with worlds in which humans have superpowers much like Marvel's X-men graphic novel series. I have read a few of these books and wasn't impressed by them at all mainly due to boring plot-lines, lack of world building or interesting characters. I had the same trepidation with starting
Young Elites
, but Marie Lu's meticulous world building of kingdoms that remind me of Renaissance Italian culture and multi-layered characters won me over.
A deadly fever has ravaged the island of Kenettra, killing many and leaving others marked in strange and dangerous ways. Those scarred by the disease, known as malfettos, are considered bad luck, dangerous, and some are even rumored to have magical abilities.
Adelina is a survivor who carries two marks: once-black hair has turned silver, and her left eye is gone. After a dark confrontation with her power-hungry father, Adelina discovers she is a malfetto when she kills her father in an act of self defense. I felt bad for Adelina who always seems to be the victim in each situation. While running away from the royal guards, she is thrust into a group of rebel malfettos, the Young Elites, who like her also have powerful powers. As Adelina begins to develop trust with the Young Elites and learns of their political interest, she begins to feel more like a political pawn in a dangerous game to overthrow the queen rather than a real member of the Young Elites.
There are multiple perspectives in the book, each highlighting the viewpoints of other members of the Young Elites including the enigmatic leader, Enzo, as well as the queen's Inquisitor, Teren, who is hunting them all. What I loved about the multiple points of view is that none of them felt extraneous and each held their own, showing how character has his or her own personal motives and are not what they appear to be. Despite the multiple point of views, this is very much Adelina's tale. We can see how her painful past of being abused sets her on a dark journey of revenge. Though she reels in her anger, which could be argued as justified, it often comes at a price. Adelina is still learning about her powerful abilities and her descent into darkness is inevitable. The book does have a slow moving plot at first as Lu spends her time carefully building her world of kings and queens, but there is plenty to discuss and enjoy. The book ends with a surprise ending, some may even call a cliffhanger, but there is an even more intriguing epilogue.
Rating:
4 stars
Words of Caution:
There is implied sexual situations as one character is a courtesan. There is some disturbing images and strong violence. Recommended for Grades 9 and up.
If you like this book try:
The Rose Society
(Young Elites #2) by Marie Lu,
Darkest Minds
series by Alexandra Bracken,
Steelheart
series by Brandon Sanderson
Description:
Adelina Amouteru's heart has suffered at the hands of both family and friends, turning her down the bitter path of revenge. Now known and feared as the White Wolf, she flees Kenettra with her sister to find other Young Elites in the hopes of building her own army of allies. Her goal: to strike down the Inquisition Axis, the white-cloaked soldiers who nearly killed her. But Adelina is no heroine. Her powers, fed only by fear and hate, have started to grow beyond her control. She does not trust her newfound Elite friends. Teren Santoro, leader of the Inquisition, wants her dead. And her former friends, Raffaele and the Dagger Society, want to stop her thirst for vengeance. Adelina struggles to cling to the good within her. But how can someone be good when her very existence depends on darkness?
Review:
I did not have high expectations when I picked up
The Rose Society
. I thought the book would drag considering its a middle book in the series, however, I was pleasantly surprised with
The Rose Society
and it exceeded my expectation in every way. While the
Young Elites
was a beginning of a dark journey though it had a bit of light when a small, subtle romance,
The Rose Society
is much darker and bleaker. Adelina's tragic tumble in darkness dominates the book. After she's cast out yet again from a people who she called once as a "family", Adelina flees with her sister, Violetta, determined to form her own society and, ultimately, seize the throne for herself. The Young Elites have plans of their own including putting the rightful heir back on the throne.
It was fascinating and harrowing in watching the darkness grow in Adelina's heart. No one, regardless of how Adelina cares for him or her, is safe around her. Adelina has claimed her identity through her powers and without it she is again a vulnerable, helpless victim who she swore she will never be ever again. Though she struggles with being good and seeing how her struggle to do what is right always backfires, Adelina begins to wonder what is so noble about being good? What was initially her plan of revenge for justice or love is now morphed into blind ambitious and winning at any cost.
While the first book in the series focused much on the world building,
Rose Society
's focus on the character arc of its characters. Lu up ends the world of her characters and is not afraid of making the characters and the readers uncomfortable with their decisions. Characters die in this book in the most gruesome, jaw dropping ways, many of them I didn't expect. I really enjoyed how the relationship between Adelina and her sister Violetta gain depth. Even secondary characters who were regulated in the background are also brought to the forefront with personalities of their own. I have no idea what is installed for Adelina in the next book, but I expect a lot more darkness and heartache.
Rating:
4.5 stars
Words of Caution:
There is strong violence throughout the novel and some disturbing images. Recommended for Grades 9 and up.
If you like this book try:
Darkest Minds
series by Alexandra Bracken,
Steelheart
series by Brandon Sanderson,
Throne of Glass
series by Sarah J. Mass,
An Ember in the Ashes
by Sabaa Tahir