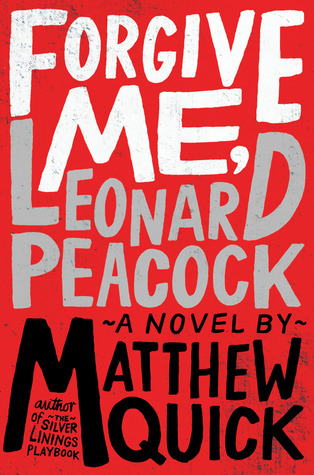 Description:
Today is Leonard Peacock's birthday. It is also the day he hides a gun in his backpack. Because today is the day he will kill his former best friend, and then himself, with his grandfather's P-38 pistol.But first he must say good-bye to the four people who matter most to him: his Humphrey Bogart-obsessed next-door neighbor, Walt; his classmate, Baback, a violin virtuoso; Lauren, the Christian homeschooler he has a crush on; and Herr Silverman, who teaches the high school's class on the Holocaust. Speaking to each in turn, Leonard slowly reveals his secrets as the hours tick by and the moment of truth approaches.
Review:
Forgive Me, Leonard Peacock
, is a striking coming of age novel that reminded me a lot of the J.D. Salinger's classic,
The Catcher in the Rye
, and Jay Asher's powerful debut novel
13 Reasons Why
. In a gut-wrenching, opening chapter Leonard Peacock declares his intention for his 18th birthday: he is going to kill his former best friend and himself with his grandfather's gun.
Leonard is a loner, an outcast, a misfit, who has a difficult time connecting with people. His parents are neglectful. His father is a washed-up, drug addict musician who has vanished and his mother is a self-absorbed, workaholic. The only real friend Leonard has is an elderly neighbor who spends his days smoking and watching Bogart movies. Leonard's anger, emotional pain, and brokenness build until he feels there is nothing left to do but end his life and the cause of his misery.
The plot of the book centers around this 24 hour period as Leonard gives gifts to the four people who mean something to him and he reveals some of his anguish. There are many topics that Leonard touches upon such as bullying, hypocrisy, and religion in the book that will provoke discussion. While reading the book, I kept hoping someone would see Leonard's suicidal signs and intervene. Luckily his most admired teacher, Herr Silverman, picks up on Leonard's erratic behavior and offers to listen without any judgment, something which Leonard so desperately needs.
Quick does a great job in his use of flashbacks, internal dialogue, and interpersonal communication. Each of the four people that Leonard meets all have an important meaning in his life and used effectively in the story regardless of how time they spend on the page. Quick also captures teenage angst and alienation perfectly in Leonard's voice which at times is funny, on-point, cynical yet heart-rending. The suspense about what happened between Leonard and Asher is what kept me glued to the pages. The slow reveal builds tension until the heartbreaking climax unfolds and we finally learn about the emotional trauma that Leonard has endured. Many readers have struggled with Leonard's likability as a character, but I don't think that is the purpose of the book. Leonard is just an example of teens who are struggling with mental illness and desperately needs help. I think the book serves as a wake-up call about identifying suicidal signals and providing help to those in need.
Rating:
4 stars
Words of Caution:
There is strong language, allusions to sexual abuse, and crude sexual humor. Recommended for Grades 9 and up.
If you like this book try:
13 Reasons Why
by Jay Asher,
The Perks of Being a Wallflower
by Stephen Chbosky,
The Catcher in the Rye
by J.D. Salinger