I've wanted to read Renee Ahdieh's A Thousand and One Nights inspired duology ever since I heard about it. I've read glowing reviews for the series and many warned of a cliffhanger ending of the first book so I patiently waited until the second book was released. Unfortunately, my expectations for this series was just too high and in my opinion didn't really warrant all of the hype it received.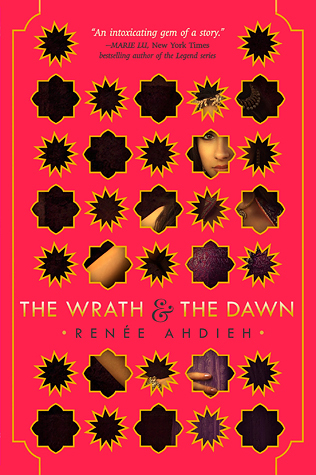 Description:
In a land ruled by a murderous boy-king, each dawn brings heartache to a new family. Khalid, the eighteen-year-old Caliph of Khorasan, is a monster. Each night he takes a new bride only to have a silk cord wrapped around her throat come morning. When sixteen-year-old Shahrzad's dearest friend falls victim to Khalid, Shahrzad vows vengeance and volunteers to be his next bride. Shahrzad is determined not only to stay alive, but to end the caliph's reign of terror once and for all.
Night after night, Shahrzad beguiles Khalid, weaving stories that enchant, ensuring her survival, though she knows each dawn could be her last. But something she never expected begins to happen: Khalid is nothing like what she'd imagined him to be. This monster is a boy with a tormented heart. Incredibly, Shahrzad finds herself falling in love. How is this possible? It's an unforgivable betrayal. Still, Shahrzad has come to understand all is not as it seems in this palace of marble and stone. She resolves to uncover whatever secrets lurk and, despite her love, be ready to take Khalid's life as retribution for the many lives he's stolen. Can their love survive this world of stories and secrets?
Review:
The Wrath and the Dawn
began with a promising prologue that grabbed my attention right away. Shahrzad, called Shazi by her friends and family, began as a fierce heroine who has volunteered to be the king's next bride and vowed to seek revenge for the murder of her beloved best friend. Unfortunately her so-called strength and tenacity began to fade very quickly. I was not convinced that she did all that she could to become a spy and act out her vengeance. She had many opportunities to do so, but hesitated and flip-flopped her loyalties and responsibilities constantly. What just seemed like three short days, she was awfully comfortable as a queen who was served hand to foot and dressed in lavish clothes and jewels.
Unlike Shazi, King Khalid had much more of a mysterious aura. He had all the essential ingredients of a brooding YA love interest and while there is much more to him that meets the eye I wished his curse was revealed in parts rather than just an info dump of a chapter.
While there is certainly chemistry between Shazi and Khalid, I was surprised how quickly it happened between given Shazi's aversion to Khalid and Khalid's relentless admission that he is not a very trusting person. Plus I had a really hard time rooting for this couple given Khalid being an actual murderer, his curse and not being convinced that he even tried to get rid of it. I actually really preferred Shazi's childhood love, Tariq, who I wished had a larger role. While there is a love triangle present, it did not really feel like one because Shazi has clearly made up her mind about Khalid.
The world building in
The Wrath and the Dawn
was hastily built and takes a bit from various Middle Eastern cultures, especially Iran with Iranian phrases and words. While I liked the inclusion of the language, I would have liked it more if the story had talked about the setting and created it as a character of its own. There is, however, a nice build up of political intrigue and mention of magic, that is slowly developed in the background of the book and leaves the reader with many questions. Personally, I didn't think the ending to the book was a cliffhanger and I only picked up the sequel because I wanted to see what the author did with her subplots. Overall this was a fast, quick read but it left me wanting more.
Rating:
3.5 stars
Words of Caution:
There is some language, allusions to sex, crude humor, and some strong violence. Recommended for strong Grade 8 readers and up.
If you like this book try:
The Rose and the Dagger
by Renee Ahdieh,
A Thousand Nights
by E.K. Johnston,
The Forbidden Wish
by Jessica Khoury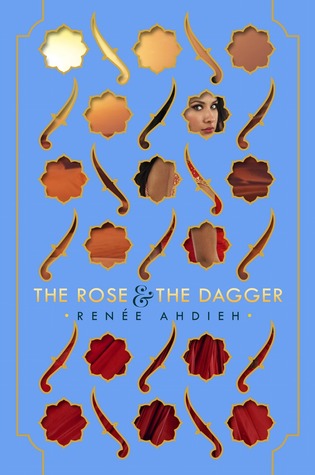 Description:
In a land on the brink of war, Shahrzad is forced from the arms of her beloved husband, the Caliph of Khorasan. She once thought Khalid a monster—a merciless killer of wives, responsible for immeasurable heartache and pain—but as she unraveled his secrets, she found instead an extraordinary man and a love she could not deny. Still, a curse threatens to keep Shazi and Khalid apart forever.
Now she's reunited with her family, who have found refuge in the desert, where a deadly force is gathering against Khalid—a force set on destroying his empire and commanded by Shazi's spurned childhood sweetheart. Trapped between loyalties to those she loves, the only thing Shazi can do is act. Using the burgeoning magic within her as a guide, she strikes out on her own to end both this terrible curse and the brewing war once and for all. But to do it, she must evade enemies of her own to stay alive.
Review:
If you didn't enjoy
The Wrath and the Dawn
then I would not recommend picking up its sequel. I was able for the most part be okay with the problems of the first book in order to enjoy the book, but
The Rose and the Dagger
annoyed me so much more. While the book has lots of action and a quick pace, it felt rushed and underdeveloped in several places.
Shazi is much more selfish, self-centered than the first book. She no longer cares about what happens to her family and friends as long as she gets back to Khalid. I had to agree with people of her tribe who are unable to comprehend her romance with Khalid. There were several times when I wanted to shake Shazi. I also thought her magical abilities, which was hinted in the first book, was not thoroughly explored. I wanted to know how she was able to have powers but not her much more likable sister. Shazi wasn't taught to use her magic, but it worked conveniently in order to move the plot along.
Khalid was a least a bit more tolerable in this book. I was surprised to see how quickly Shazi and Khalid got the answer to lift his curse. It really annoyed me how quickly, easily, and anticlimactically it was resolved. While I understand that the romance between Shazi and Khalid is a major part of this series, but it happened at the wrong times especially when their lives were at risk. These parts didn't come across as swoony but more of eye roll moments.
The political revolt, which was paced quite nicely in the first book, felt disjointed and rushed. There were unnecessary deaths and the secondary characters that actually shined in the first book didn't get as much page time as I would have liked. Overall this sequel is not an improvement from the first book. In this instance I really think the series would have benefited from a trilogy instead of a duology.
Rating:
3 stars
Words of Caution:
There is some language, allusions to sex, crude humor, and some strong violence. Recommended for strong Grade 8 readers and up.
If you like this book try:
A Thousand Nights
by E.K. Johnston,
The Forbidden Wish
by Jessica Khoury, the Dark Caravan series by Heather Demetrios