I absolutely adore G. Willow Wilson's Ms. Marvel graphic novel series. While the series may not be of the award winning quality of comics such as Alan Moore's
Watchmen
or Frank Miller's
Batman: The Dark Knight Returns
, it is undoubtedly revolutionary. In Wilson's re-imaging of the famous female heroine, Ms. Marvel is a Pakistani, Muslim teen, which is revolutionary especially when our media only show oppressed Pakistani women. Ms. Marvel refreshingly blends cultural identity, religion, and the normal hijinks of a superhero.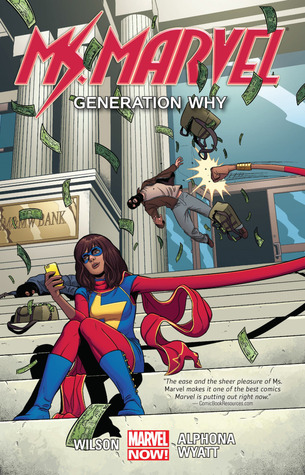 Description:
Who is the Inventor, and what does he want with the all-new Ms. Marvel and all her friends? Maybe Wolverine can help! If Kamala can stop fan-girling out about meeting her favorite super hero, that is. Then, Kamala crosses paths with Inhumanity -- by meeting the royal dog, Lockjaw! But why is Lockjaw really with Kamala? As Ms. Marvel discovers more about her past, the Inventor continues to threaten her future. Kamala bands together with some unlikely heroes to stop the maniacal villain before he does real damage, but has she taken on more than she can handle? And how much longer can Ms. Marvel's life take over Kamala Khan's? Kamala Khan continues to prove why she's the best (and most adorable) new super hero there is!
Review:
In the second volume of Ms. Marvel, Kamala is still adjusting to her new role as a superhero. She is not quite comfortable with her powers, but she is trying. She is also trying to figure out her identity from her familial obligations of being a daughter, her obligations to her faith, and to her responsibilities of as a superhero. I love the inclusion of Kamala's traditional Pakistani family and Wilson not shying away from including religion in the graphic novel such as showing Kamala going to the mosque and asking her imam for guidance. These depictions may not seem like a big deal for me, a reader that shares these similarities with the protagonist, but those who are unfamiliar with the religion and culture it is a striking contrast of what they see in media. This banality is what I think makes the Ms. Marvel series powerful and necessary.
Along with the character development of Kamala, we are treated with the special appearance of Wolverine and their shared adventure, which was a lot of fun to read. Wolverine knows a thing or two about being an outsider and gives Kamala reassurance that she will figure everything out. It was really cute seeing Kamala become a fangirl. I also adored Kamala's helper, a gigantic bull dog.
This volume wraps up with Kamala saving the day from a villain called the Inventor, who is sucking the youth out of the teens and giving their life energy to the older generations, which is the graphic novel's weakest point. The villain is just not menacing enough and the ending does take a little dive into cheesy and preaching area, but it didn't deem my enjoyment when reading the graphic novel.
Rating:
4 stars
Words of Caution:
There is some minor language. Suitable for middle grade readers and up.
Description:
Love is in the air in Jersey City as Valentine's Day arrives! Kamala Khan may not be allowed to go to the school dance, but Ms. Marvel is! Well sort of--by crashing it in an attempt to capture Asgard's most annoying trickster! Yup, it's a special Valentine's Day story featuring Marvel's favorite charlatan, Loki! And when a mysterious stranger arrives in Jersey City, Ms. Marvel must deal with...a crush! Because this new kid is really, really cute. What are these feelings, Kamala Khan? Prepare for drama! Intrigue! Romance! Suspense! Punching things! All this and more! The fan-favorite, critically acclaimed, amazing new series continues as Kamala Khan proves why she's the best (and most adorable) new super hero there is! Plus, see what happens when S.H.I.E.L.D. agent Jemma Simmons goes undercover at Kamala's school!
Review:
In the third volume of Ms. Marvel, Kamala is diving into the trouble waters of romance in the graphic novel's Valentine's Day theme. Bruno, Kamala's buddy who works in the local store, is pining for Kamala but he can't seem to get out of the friend-zone. While I ship Bruno and Kamala together, there are a lot of obtacles in their way such as culture, race, and religion. I am really curious how Wilson will address these issues is she does decide to go this route. It is clear that Kamala is expected to marry someone Pakistani and then she is actually swept off her feet by a seemingly perfect Kamran who not only meets her parents' expectations but also match in Kamala's interests too. While the romance is cute, it was pretty easy to see that Kamran was just too perfect and when his real motives are revealed I wasn't too surprised. I was actually more interested to see how this romance will further develop Kamala's identity. My favorite part of the graphic novel is actually the introduction of Loki, who in my opinion stole the show. I really wanted to him to stay longer than his brief stint.
Rating: 4 stars
Words of Caution:
There is some minor language. Suitable for middle grade readers and up.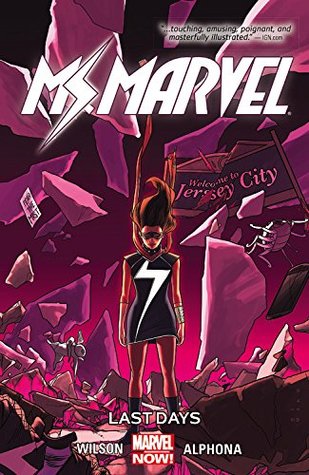 Description:
From the moment Kamala put on her costume, she's been challenged. But nothing has prepared her for this: the last days of the Marvel Universe. Lucky she's got the help of Carol "Captain Marvel" Danvers! Between teaming up with her personal hero to rescue her brother and trying to keep her city from falling into an all-out frenzy, Kamala has barely had time to come to terms with the fact that the world is literally collapsing around her. But the truth will catch up to her, and soon. When the world is about to end, do you still keep fighting? Kamala knows the answer. Let's do this, Jersey City.
Review:
Compared to the first three volumes of Ms. Marvel, the fourth volume is much darker and serious in tone. Kamala is dealing with heartbreak, but she's got bigger problems when she sees New Jersey come under attack by a foreign intruder and everyone running for the hills. Kamala's self doubt is stronger than ever, but luckily Carol Danvers aka Captain Marvel steps in as Kamala's mentor. I don't know much about Carol Danvers, but it was really fun having two female superheroes kick butt.
There are lot of new surprises in this volume in regards to the different relationship dynamics. I won't go into details because of spoilers, but one of them took me by surprise and I'm really curious to see what happens next. Like the previous volumes, there is some crossover with the Marvel characters, which I'm not a big fan of because they take me completely out of Kamala's story.
Rating:
4 stars
Words of Caution:
There is some minor language. Suitable for middle grade readers and up.
If you like these books try:
The Shadow Hero
by Gene Luen Yang, Princeless series by Jeremy Whitley,
The Unbeatable Squirrel Girl
by Ryan North,
Thor: The Goddess of Thunder
by Jason Aaron,
The Adventures of Superhero Girl
by Faith Erin Hicks