The Star-Touched Queen
has been featured on several blogs for quite some time, generating a lot of buzz, hype, and very high expectations. I was very much looking forward to this standalone fantasy that is steeped in Indian folklore and mythology, but sadly the book failed to meet my expectations.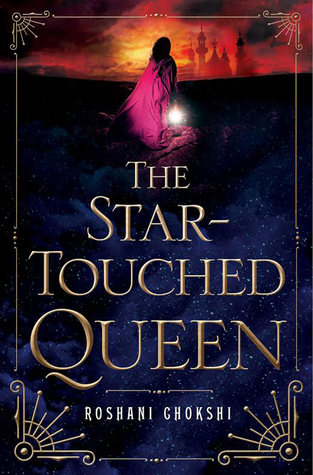 Description:
Maya is cursed. With a horoscope that promises a marriage of death and destruction, she has earned only the scorn and fear of her father's kingdom. Content to follow more scholarly pursuits, her whole world is torn apart when her father, the Raja, arranges a wedding of political convenience to quell outside rebellions. Soon Maya becomes the queen of Akaran and wife of Amar. Neither roles are what she expected: As Akaran's queen, she finds her voice and power. As Amar's wife, she finds something else entirely: Compassion. Protection. Desire.

But Akaran has its own secrets—thousands of locked doors, gardens of glass, and a tree that bears memories instead of fruit. Soon, Maya suspects her life is in danger. Yet who, besides her husband, can she trust? With the fate of the human and Otherworldly realms hanging in the balance, Maya must unravel an ancient mystery that spans reincarnated lives to save those she loves the most…including herself.
Review:
The Star-touched Queen
has a great premise. The author has a very rich, descriptive writing style that is mesmerizing to the point of distraction, but the story's Achille's heel is its poor execution. The world building is hazy and weak. For example, many readers have commented that the story is a retelling of the Hades and Persephone myth, which would be incorrect as the
Star-Touched Queen
is very much
influenced by a number of different Indian mythologies. This confusion is a telling mistake of how the author fails to set up and distinguish her different realms though we are taken to the Otherworld and the Underworld. Sprinkling Hindi words and detailed descriptions of clothing and jewelry does not count as efficient world building.
Though I liked the overall arching story of Maya, a young princess who lives in scorn because of the horoscope that decrees she will marry "death and destruction", there is too much packed into her story with hints of a former life, dormant magical abilities, love, betrayal, and redemption. The plot felt rushed and meandering, especially in the second half of the book.
Maya jumps from one place to the next with the author telling her story rather than showing it. As a result, I didn't really get to know Maya nor did I get the chance to care for her. The mythologies were so jumbled together that I really think this book would have been much better if there were more pages to spread the story out. There is a romance in the story, but it felt underdeveloped and inauthentic.
I would have loved to go on a journey to power and self-affirmation with Maya instead of being told how much she had changed. Character development is my favorite part of reading a book, but I was sad to see none of the characters fully fleshed out. While there is a companion novel coming out soon featuring a secondary character, I'm still not sure if I will pick it up anytime soon. The author has some great ideas, but she definitely needs to work on her craft and sharpen her writing skills more.
Rating:
This is a hard one to rate somewhere between 2 to 3 stars.
Words of Caution:
There is strong violence that takes place mostly off the page, some language, and crude humor. Recommended for Grades 9 and up.
If you like this book try:
The Wrath and the Dawn series by Renee Ahdieh, The Court of Thorns and Roses series by Sarah J. Maas