I'm all caught up reading the Charley Davidson series, but I'm behind in review the series on the blog. Here are my reviews for books 8 and 9 plus a Reyes novella. I enjoyed all of these books.
Description (edited to avoid spoilers):
With twelve hellhounds after her, Charley Davidson takes refuge at the only place she thinks they can't get to her: the grounds of an abandoned convent. But after months of being cooped up there, Charley is ready to pop. Fortunately, a new case has captured her attention, one that involves a murder on the very grounds the team has taken shelter upon. A decades-old murder of the newly-vowed nun she keeps seeing in the shadows is almost enough to pull her out of her doldrums.
Charley's been forbidden to step foot off the sacred grounds. While the angry hellhounds can't traverse the consecrated soil, they can lurk just beyond its borders. They have the entire team on edge, especially Reyes. And if Charley didn't know better, she would swear Reyes is getting sick. He grows hotter with every moment that passes, his heat scorching across her skin every time he's near, but naturally he swears he's fine.
While the team searches for clues on the Twelve, Charley just wants answers and is powerless to get them. But the mass of friends they've accrued helps. They convince her even more that everyone in her recent life has somehow been drawn to her, as though they were a part of a bigger picture all along. But the good feelings don't last for long because Charley is about to get the surprise of her crazy, mixed-up, supernatural life.
Review:
Reading this installment of the Charley Davidson series is much like riding a roller coaster. There were so many moments of happiness only to crash you with the deepest lows. We finally get to see a wedding though I would have liked an actual account of it rather than the rushed version that we got. There were a two mysteries that surrounded the church, but the ones about the girls held my attention and the nun one was just filler. Like the other books, we are finally getting some answers regarding the twelve hellhounds and the mystery of Mr. Wong is finally solved! Of course with the answers we are also have a lot of more questions to ask. The ending broke me and it was horrible. This is really a world breaking installment and I'm curious to see which direction Jones takes her heroine. All I know is that I'm fully on board.
Rating:
4.5 stars
Words of Caution:
There is some strong language, some strong violence, and crude sexual humor. Recommended for adults only.
Description:
All his life, Reyes Alexander Farrow has suffered the torments of the damned. Only one thing has given him hope: the woman who radiates a light that no mortals can see; a light that only the departed can see.
Told from his point of view, Brighter Than the Sun chronicles the first time Reyes ever encountered Charley, and how their relationship has been the one thing that can either save him or doom him.
Review:
This is a fun novella that takes place that takes place during the timeline of
First Grave on the Right
and told from Reyes's point of view. While it was great hearing Reyes's voice, no new information was gained from reading this novella. I did, however, get a better sense of his discomfort in having everyone lust after him. I used to think he just tuned it out especially with the women at the diner, but it really does bother him. I would only recommend picking this novella up if you are a die hard Charley Davidson or Reyes fan.
Rating:
3 stars
Words of Caution:
There is some strong language, some strong violence, and crude sexual humor. Recommended for adults only.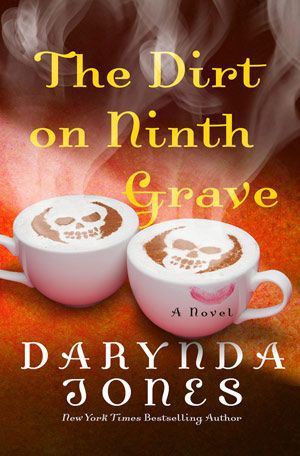 Description:
In a small village in New York lives Jane Doe, a girl with no memory of who she is or where she came from. So when she is working at a diner and slowly begins to realize she can see dead people, she's more than a little taken aback. Stranger still are the people entering her life. They seem to know things about her. Things they hide with lies and half-truths. Soon, she senses something far darker. A force that wants to cause her harm, she is sure of it. Her saving grace comes in the form of a new friend she feels she can confide in and the fry cook, a devastatingly handsome man whose smile is breathtaking and touch is scalding. He stays close, and she almost feels safe with him around.
Review:
Like the eighth book, this one was a very bittersweet novel. After a life shattering event, Charley is suffering from amnesia and going through life as struggling waitress Janey. She has no memory of who she is or how she ended up in the café, but we as readers find familiar faces to help make sure Charley is safe and okay. It hurt my heart to see our lovable heroine be so lost especially when she felt that she was the "other woman" with Reyes. I couldn't imagine what Reyes must have gone through. We slowly watch Charley's past reasserting itself: she is still able to converse with the dead, and she realizes that there are beings out there trying to kill her. While there is a side mystery, the focus is clearly on Charley as we bite our nails in hopes that she recovers her memory by the end of the book.
Rating:
4.5 stars
Words of Caution:
There is some strong language, some strong violence, sexual situations, and crude sexual humor. Recommended for adults only.
If you like this series try:
Naked Werewolf series by Molly Harper, Kate Daniels series by Ilona Andrews, The Disillusionists series by Carolyn Crane