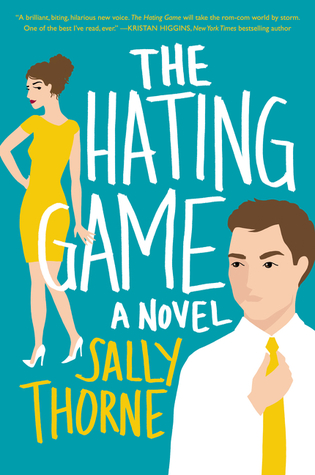 Description:
Lucy Hutton and Joshua Templeman hate each other. Not dislike. Not begrudgingly tolerate. Hate. And they have no problem displaying their feelings through a series of ritualistic passive aggressive maneuvers as they sit across from each other, executive assistants to co-CEOs of a publishing company. Lucy can't understand Joshua's joyless, uptight, meticulous approach to his job. Joshua is clearly baffled by Lucy's overly bright clothes, quirkiness, and Pollyanna attitude.
Now up for the same promotion, their battle of wills has come to a head and Lucy refuses to back down when their latest game could cost her her dream job…But the tension between Lucy and Joshua has also reached its boiling point, and Lucy is discovering that maybe she doesn't hate Joshua. And maybe, he doesn't hate her either. Or maybe this is just another game.
Review:
The Hating Game
is a delightful romantic comedy that is destined to be made into a movie.
Lucy Hutton and Joshua Templeman sit across from each other working as executive assistants for their co-CEO bosses of the merged publishing house Bexley and Gamin. They do not like one another. Lucy is petite, approachable, loves vintage fashion, fiesty, and has an affinity to her flamethrower lipstick. Josh is a tall, aloof, cold, intimidating, and wears the same colored shirts in the same sequence every week. Both take extensive notes about one another and play a game where they keep score on how they can offend one another to the extent of filing complaints at human resources, which they aptly title the HR Game. It was apparent to me that there is a lot of romantic tension and frustration lurking between these two, but it was made crystal clear when Josh kisses Lucy in an elevator that things will certainly become more interesting.
When a promotion possibility comes up, both Josh and Lucy would do anything to get it. The Hating Game is more than just a story between two coworkers who try to one-up one another. Lucy and Josh take a long winding road from treatise, awkward friendship, and possibly love. Through their wayward journey to happiness, the characters begin to unfurl their insecurities both inside and between themselves. I appreciated that the author included both a balance between Lucy's fear of everyone liking her and her self doubts of seizing the promotion at work and Josh's own insecurities of not living up to people's expectations, particularly of his father's and interestingly his body image. I just wished we got a little bit more of this in the story. In addition to learning about their vulnerabilities,we also learn what is the heart of what makes Lucy and Joshua tick. My only big complaint with The Hating Game is that it ended too abruptly for me. I wanted to know who got the job promotion and what happened next to Lucy and Josh! I will definitely will keep an eye out for Thorne's next book as I enjoyed this one. If you like antagonistic romance stories you should definitely pick this book up!
Rating:
4 stars
Words of Caution:
There is some strong language, sexual crude humor, and sexual situations that are quite graphic. Recommended for adults only.
If you like this book try:
The Rosie Project
by Graeme Simsion,
Attachments
by Rainbow Rowell