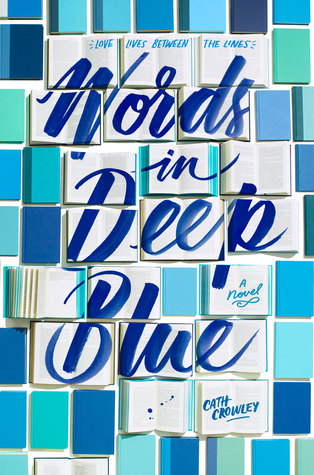 Description:
Years ago, Rachel had a crush on Henry Jones. The day before she moved away, she tucked a love letter into his favorite book in his family's bookshop. She waited. But Henry never came. Now Rachel has returned to the city—and to the bookshop—to work alongside the boy she'd rather not see, if at all possible, for the rest of her life. But Rachel needs the distraction, and the escape. Her brother drowned months ago, and she can't feel anything anymore. She can't see her future.
Henry's future isn't looking too promising, either. His girlfriend dumped him. The bookstore is slipping away. And his family is breaking apart.
As Henry and Rachel work side by side—surrounded by books, watching love stories unfold, exchanging letters between the pages—they find hope in each other. Because life may be uncontrollable, even unbearable sometimes. But it's possible that words, and love, and second chances are enough.
Review:
Words in Deep Blue
is a realistic look at loss, grief, love, and the importance of words. Told in alternative points of view and packed with emotions, each of the characters go on a journey from hopelessness to second chances of living again. Rachel Sweetie's world changed forever the day her brother Cal drowned. Since his death, Rachel has failed to graduate from school and alienated most of her friends. She has become a zombie, feeling numb and unable to move on. Rachel's family seems to think returning to live with her aunt in their old hometown will help. She's up for the change of scenery, if only it didn't mean seeing her ex-best friend Henry. Before moving, Rachel mustered up her courage, became vulnerable and confessed she loved Henry in a love letter that she left in his family's bookstore. Henry never responded.
Like Rachel, Henry is also dealing with a loss of his own. His girlfriend suddenly dumps him without any explanations and his refuge and his parents bookstore, Howling Books, may have to be sold due to abysmal sales.
As a bibliophile myself it didn't take me long to get wrapped in this book. I liked Rachel right away. With moving back home, she is given another chance to live her life again. I enjoyed watching her grow as she accepts her failures and finally embraces her grief. I appreciated that the author didn't reduce her character to be Henry-centered. I also enjoyed how organic and authentic her friendship and later romance with Henry felt.
I had a harder time liking Henry. Henry reminded me of John Cusack in
Say Anything
. I loved that he is a reader and a dreamer. What annoyed me most about him was his tunnel vision in getting his girlfriend back, a person that everyone can see is not good for him. There were many times I wanted to shake him and hit him upside the head to show him that Rachel is the one he needs. It's so obvious to everyone else but him. I did however love Henry's sister George who is rough on the outer edges but soft at heart. I loved watching her come out of her shell. She too has her own journey in the book that broke my heart and eventually wove my broken pieces back together.
I absolutely loved the setting of Howling Books. I wished there was a bookstore such as that near me. I would never leave. The bookstore also has a Letter Library in which customers communicate with one another by writing in and marking up a select set of books and by leaving letters in between the pages. I liked how these letters varying from funny, touching, and sad were interspersed throughout the book. Though the book doesn't end with a nicely tied bow and I would have liked a bit more of a resolution with some of the plot threads, it does make the story realistic.
Words in Deep Blue
is a love story, your traditional romance but also a love story to the written word.
Rating:
4 stars
Words of Caution:
There is some language, allusions to sex, and some nudity. Recommended for Grades 9 and up.
If you like this book try: