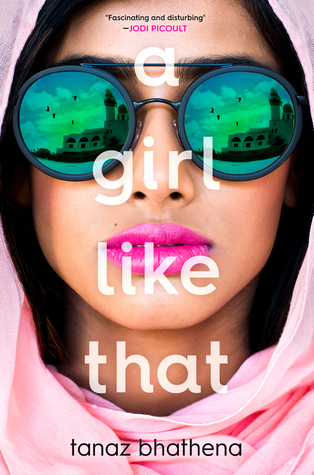 Description:
Zarin Wadia is many things: a bright and vivacious student, an orphan, a risk taker. She's also the kind of girl that parents warn their kids to stay away from: a troublemaker whose many romances are the subject of endless gossip at school. You don't want to get involved with a girl like that, they say. So how is it that eighteen-year-old Porus Dumasia has only ever had eyes for her? And how did Zarin and Porus end up dead in a car together, crashed on the side of a highway in Jeddah, Saudi Arabia? When the religious police arrive on the scene, everything everyone thought they knew about Zarin is questioned. And as her story is pieced together, told through multiple perspectives, it becomes clear that she was far more than just a girl like that.
Review:
When Zarin and her friend Porus die in a car accident in Jeddah, Saudi Arabia, everyone, from the religious police to Zarin's classmates and neighbors, is suspicious. What were Porus and Zarin doing? Was Porus one of Zarin's many romantic liaisons? Only the deceased teens know the truth, and as their spirits hover above the wreckage, they look back on what led up to this point.
Zarin has been doomed since her illegitimate birth. She is the daughter of an Indian gangster and a bar dancing "loose" Parsi mother. Her origins are a shameful secret to her family and follows her like a black cloud over her head. Raised by aunt and uncle, Zarin moves to Mumbai, India to Jeddah, Saudi Arabia for work and hopes of escaping rumors of Zarin's mother's death. In Jeddah Zarin's domineering, abusive, and paranoid aunt fears Zarin will follow the same path as her mother, keeps a tight grip on Zarin, removing all signs of physical femininity from her haircut to her clothes and shielding her from boys and men, to no avail. Zarin defies convention, dating boys and smoking, developing a bad reputation at school. It was only after reconnecting with Porus, a Parsi friend from Mumbai, whomoved to Jeddah for work, that Zarin began to reconsider her behavior—and her capacity for love.
Bhathena's debut tackles rape culture in Saudi Arabia and for the most part does it quite well. The book addresses double standards and the gender expectations among men and women. Men are expected to demonstrate their masculinity by taking what they want and being aggressive. Women are expected to be "pure" and submissive. The narrative is split between five points of view: Zarin, Porus, Zarin's ex-boyfriend Abdullah; his righteous sister, Mishal, and Farhan, Abdullah's best friend and the popular student on whom Zarin nurses a crush. All of these points of views attempt to give the reader a multi-layered view of Zarin's reputation. Due to the numerous voices, it was hard to distinguish between the many voices and witness character development especially from Mishal and Farhan when they want to repent for their actions. The timeline between past and present jumps around and was confusing to follow.
What I found troubling with
A Girl Like That
is the treatment of its Muslim characters. With the exception of the angelic Porus, the Muslim males are stereotyped and one dimensional. Abdullah follows his father's behavior of tossing one girl aside and moves on to the next when he is unable to have sex with her. Farhan takes this behavior to the extreme and uses the date rape drug to make scores on his "man card" even though he seems to be desired by virtually every female he sees. The drug dealer who supplies Farhan is also Muslim. While rape culture is unfortunately not limited to one country, due to the lack of wide range of male characters the book dangerously implies that it is limited to one group of men.
Similarly, Muslim women are not complex characters either. Mishal is Abdullah's sister who bullies and harasses Zarin by spreading rumors about Zarin around social media and in school. The other female classmates are also bullied for their wayward actions and some are survivors of sexual assault though their stories are not talked about nor are they believed. It is also hinted at several times that Zarin's aunt suffers from mental illness but it is also not addressed in the story. Overall
A Girl Like That
tackles an important subject and gives the reader a lot to think about. I just wished it was more nuanced, fleshed out, and balanced.
Rating:
3 stars
Words of Caution:
The novel contains graphic descriptions of abuse and sexual assault. Recommended for Grade 10 and up.
If you like this book try:
What Girls Are Made Of
by Elana K. Arnold, Story of a Girl by Sara Zarr
Labels: 2018 Reading Challenge, 3 stars, Bullying, DAC, Diversity, Family, Friendship, Immigrants, India, Middle East, Physical Abuse, Realistic Fiction, Religion, Sex Abuse, YA