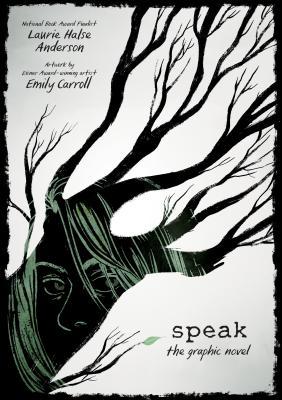 Description:
From the first moment of her freshman year at Merryweather High, Melinda knows this is a big fat lie, part of the nonsense of high school. She is friendless--an outcast--because she busted an end-of-summer party by calling the cops, so now nobody will talk to her, let alone listen to her. Through her work on an art project, she is finally able to face what really happened that night: She was raped by an upperclassman, a guy who still attends Merryweather and is still a threat to her. With powerful illustrations by Emily Carroll, Laurie Halse Anderson's
Speak: The Graphic Novel
comes alive for new audiences and fans of the classic novel.
Review:
I read Laurie Halse Anderson's debut YA novel,
Speak
, when I began library school and it has stayed with me ever since. The novel is told from Melinda's point of view and mostly through her inner monologue as she recounts her harrowing freshmen year of high school as a social pariah. We get glimpses of what has happened, mainly from other people's perspectives, that she had called the police in an end-of-summer party and now everyone shuns her. Unable to tell anyone what actually happened at the party, Melinda withdraws more and more into herself. She loses her voice and herself as she ditches classes and spirals downward into apathy and depression. One of the few people to reach her is her art teacher, who helps her express with art what she has so deeply and painfully buried. It is through art that Melinda finds her voice to speak.
The graphic novel adaptation of Speak highlights the importance of art in the novel. It blends words and images to bring Melinda's story to life. We get a visual survival journey of Melinda as she loses her voice, fights the daily battles she must wage to find it again, and the triumph of finally being able to speak out. Carroll who is known for her horror graphic novels perfectly depicts in gray artwork the starkness of Melinda's depression through strong ink lines and striking panels that rely on pencil and charcoal textural effects for the backgrounds. In the original text Melinda was so removed, regulated to the background as an observer. In this graphic novel we get to be an active part of her story. The graphic novel is a faithful adaptation with the dialogued pulled directly from the novel. Despite some minor changes the graphic novel evokes the style and emotions of the original novel seamlessly. It adds a layer of complexity to the story. It is a timely, haunting, and powerful read that is not to be missed.
Rating:
5 stars
Words of Caution:
There are allusions to sexual assault, underage drinking and partying. Recommended for Grades
If you like this book try:
Shout
by Laurie Halse Anderson, All the Rage by Courtney Summers,
The Way I Used to Be
by Amber Smith