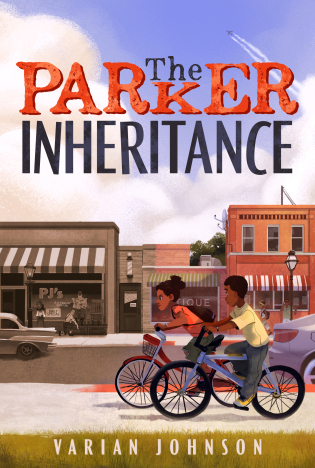 Description:
When Candice finds a letter in an old attic in Lambert, South Carolina, she isn't sure she should read it. It's addressed to her grandmother, who left the town in shame. But the letter describes a young woman. An injustice that happened decades ago. A mystery enfolding its writer. And the fortune that awaits the person who solves the puzzle.
So with the help of Brandon, the quiet boy across the street, she begins to decipher the clues. The challenge will lead them deep into Lambert's history, full of ugly deeds, forgotten heroes, and one great love; and deeper into their own families, with their own unspoken secrets. Can they find the fortune and fulfill the letter's promise before the answers slip into the past yet again?
Review:
Part historical fiction and part suspenseful mystery,
The Parker Inheritance
is an absorbing read and does not sugar coat a town's struggle with hatred and racism. Candice and her mother have moved temporarily from Washington, D.C., to her mother's hometown in Lambert, SC, while her parents finalize the plans of their amicable divorce. Candice is miserable until she meets Brandon and finds an old letter addressed to her from her deceased grandmother with a puzzle enclosed. Twenty years prior, her grandmother had tried unsuccessfully to solve the puzzle that would yield a great deal of money to the town and the person who solved it. Candice's grandmother's attempts to solve the puzzle have been ridiculed, but Candice thinks she can solve it but will need some help. Wanting to escape ennui, Candice and Brandon make their own attempt.
The plot moves along quickly and seamlessly between the past and present. Candice and Brandon follow clues and use their critical analysis skills to pursue leads. The characters are varied, authentic, and well developed. I was interested in both time periods. I also enjoyed seeing Candice and Brandon's friendship grow and develop. There is a lot to unpack in this book, but it would a great supplemental and personal link to social studies curriculum surrounding race relations in the United States for younger readers. Appended author notes offer additional context.
Curriculum Connection:
Social Studies
Rating:
4 stars
Words of Caution:
A brutal beating as a hate crime is mentioned in the book without being overly graphic. Recommended for Grades 4 and up.
If you like this book try:
Breakout
by Kate Messmer,
Westing Game
by Ellen Raskin