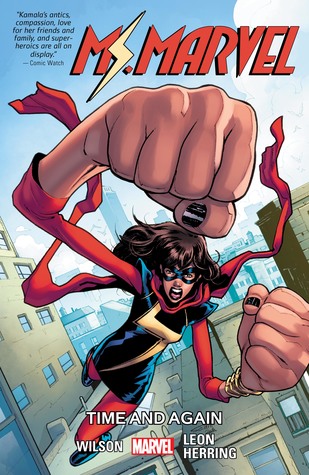 Description:
Kamala Khan continues to mix super-heroic adventure with fun and friendship! Starting with... a slumber party! But if calamity strikes Jersey City while Kamala is having a sleepover with Nakia, Zoe and Mike, how can Ms. Marvel save the day without bailing on her best friends?

And speaking of BFFs, Bruno is back — and he and Kamala are learning how to be pals again. What better bonding experience than geeking out over a little science? And what better experiment to run than trying to figure out how Ms. Marvel's powers work?

But when things go awry and with her uncanny abilities on the fritz, Kamala will have to pull it together to battle a classic Marvel villain!
Review:
Ms. Marvel Volume ten is end of G. Willow Wilson writing the graphic novel series that has meant so much to me. Though Ms. Marvel will continue and be written under a different writer, I will really miss Ms. Willow's writing who has brought warmth, culture, humor, and diversity which is much needed in the Marvel Comics. Kamala Khan is the first time I saw myself on the page though I don't have her embiggening powers or her responsibility of being a superhero, but I do understand the struggle of wanting to be a normal adolescent and also needing to be an unabashed Paksitani American Muslim. Though the villains are hokey in this series and not as serious as your traditional comic book, I return time and again to the wonderful characters in this series.
Fittingly we return to the roots of this graphic novel series in this tenth volume. Kamala is tired of leading a double life and finally reveals her superhero identity to her girlfriends at a slumber party which is continuously being interrupted by hijinks, but of course, everyone already knew. A very cute moment. We are also reunited with Kamala's best friend Bruno who has returned from Wakanda as they battle a lesser known Marvel villain named Shocker. This section allows us to examine Kamala's powers from a scientist point of view. I did not completely understand all the sceience behind Kamala's powers but it was nice to see Bruno and Kamala reconnect after several issues being apart and it was also cool to see Professor X make a cameo. I also loved seeing the various future renditions of future Kamala which leaves the door open for Saladin Ahmed to pick up the series under the new title Magnificent Ms. Marvel. There is also a weird time travel trip to 1257 A.D. to discover one of Kamala's Inhuman ancestors, and there's some "quest game" wormhole story going on that puzzled me, but the important things is that in the end Wilson and crew brought the energy and love that was the cornerstone of the series.
It was also fun to see a lot of people who wrote and contributed to this volume such as such as Hasan Minhaj, Rainbow Rowell and Eve Ewing. Though there were so many writers involved in this volume, I did not notice any problems with tone, character consistency, etc. I will for sure read the new run Magnificent Ms. Marvel, but Wilson's Ms. Marvel will always have a soft spot in my fangirl heart.
Rating:
4 stars
Words of Caution:
None. Recommended to Grades 8 and up.
If you like this book try:
Champions
by Mark Waid,
A-Force Vol 1
by G. Willow Wilson