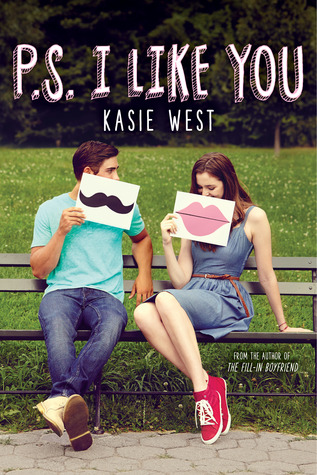 Description:
Signed, sealed, delivered... While spacing out in chemistry class, Lily scribbles some of her favorite song lyrics onto her desk. The next day, she finds that someone has continued the lyrics on the desk and added a message to her. Intrigue!
Soon, Lily and her anonymous pen pal are exchanging full-on letters—sharing secrets, recommending bands, and opening up to each other. Lily realizes she's kind of falling for this letter writer. Only, who is he? As Lily attempts to unravel the mystery and juggle school, friends, crushes, and her crazy family, she discovers that matters of the heart can't always be spelled out.
Review:
P.S. I Like You
is the perfect comfort read. While you may figure out the story ahead of time, it is a joy watching the main characters play it all out. This book made me nostalgic and reminded me of the popular Tom Hanks and Meg Ryan romantic comedies, especially
You've Got Mail
which is actually a remake of a 1940s movie,
The Shop Around the Corner
, starring James Stewart and Margaret Sullavan.
Cade and Lily have never gotten along for years. Cade has always made snide comments about Lily. Lily thinks Cade is a snotty, stuck-up rich kid, and only cares about himself. Both keep a count of how many jabs they can give one another. When Cade rains on her parade, Lily looks to shaggy hipster Lucas, who is a ray of sunshine and romantic potential. Things take a turn when Lily scribbles some graffiti on top of the desk to combat her boredom in chemistry class and is surprised to find a reply the next day. She is even more surprised when the answers continue. Soon the scribbles graduate to hidden notes and before she knows it, Lily is bonding and falling for her secret pen pal over mutual interests in indie music and about life. Who is her mysterious new friend? Could it be Lucas or some other stranger?
The notes are my favorite thing about
P.S. I Like You
. It allowed the characters to develop and become unvarnished where they exposed their vulnerabilities and anxieties. Both characters reexamine themselves in believable ways, especially in the way they treated each other before. Another aspect that I loved about this story is Lily's large family that were full of vibrant characters. If you are a fan of antagonistic romances and like finishing a book with a smile on your face, do pick this one up. It's super cute without being sachrine.
Rating:
4 stars
Words of Caution:
There is some minor language that would be rated PG if it were a movie. Recommended for Grades 7 and up.
If you like this book try:
On the Fence
by Kasie West,
To All the Boys I Loved Before
series by Jenny Han,
Anna and the French Kiss
by Stephanie Perkins