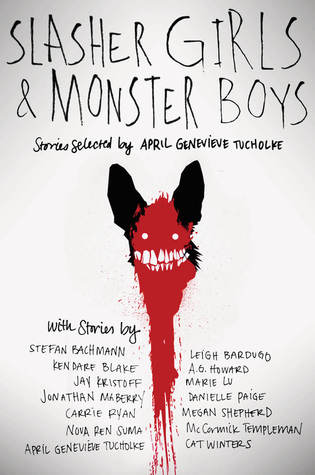 Description:
A host of the smartest young adult authors come together in this collection of scary stories and psychological thrillers curated by Between the Devil and the Deep Blue Sea's April Genevieve Tucholke.
Each story draws from a classic tale or two—sometimes of the horror genre, sometimes not—to inspire something new and fresh and terrifying. There are no superficial scares here; these are stories that will make you think even as they keep you on the edge of your seat. From bloody horror to supernatural creatures to unsettling, all-too-possible realism, this collection has something for any reader looking for a thrill.
Review:
Slasher Girls and Monster Boys
is an anthology of horror stories written by fourteen popular YA authors. Each author draws inspiration from a mix of literature, film, television, and music to create a new, fresh, and unsettling stories. Like in most cases in which I read a collection of short stories, there are a number of standouts in which I loved and would love to check out some of the writer's other works and there are others that didn't work for me.
I absolutely loved the Daphne Du Maurier inspired
The Birds of Azalea Street by Nova Ren Suma which beautifully captured the gothic horror and creepy men. I also thoroughly enjoyed Megan Shepard's
Hide and Seek
which is a suspenseful and fast paced story of a girl who is trying to cheat death. Jay Kristoff's alarming tale of online dating gone horribly, horribly wrong in Sleepless was a chilling read.
The diverse stories in this anthology is sure to have something for everyone. I would recommend checking it out if you are looking for a quick read or are interested in reading horror or supernatural stories.
Rating:
3 stars
Words of Caution:
There is strong violence and disturbing images in most of these stories. There is also some strong language. Recommended for Grades 9 and up.
If you like this book try:
Monstress Affections by Kelly Link, The Restless Dead edited by Deborah Noyes