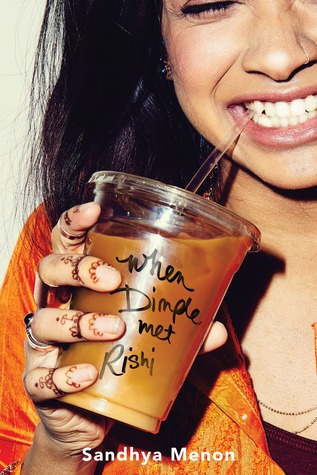 Description:
Dimple Shah has it all figured out. With graduation behind her, she's more than ready for a break from her family, from Mamma's inexplicable obsession with her finding the "Ideal Indian Husband." Ugh. Dimple knows they must respect her principles on some level, though. If they truly believed she needed a husband right now, they wouldn't have paid for her to attend a summer program for aspiring web developers…right?
Rishi Patel is a hopeless romantic. So when his parents tell him that his future wife will be attending the same summer program as him—wherein he'll have to woo her—he's totally on board. Because as silly as it sounds to most people in his life, Rishi wants to be arranged, believes in the power of tradition, stability, and being a part of something much bigger than himself.
The Shahs and Patels didn't mean to start turning the wheels on this "suggested arrangement" so early in their children's lives, but when they noticed them both gravitate toward the same summer program, they figured, Why not? Dimple and Rishi may think they have each other figured out. But when opposites clash, love works hard to prove itself in the most unexpected ways.
Review:
I finished
When Dimple Met Rishi
in one sitting, something that is very rare for me to do. This romantic debut novel wonderfully explores the culture of the sub Indian continent and more importantly what it means to be a first-generation teen from an immigrant family. Dimple and Rishi come from a similar background though they share clashing perspectives on their culture. Both teens are ready to embark on their adventure to college and being independent. In a traditional South Asian culture this is also a time to start thinking about marriage and settling down so it is not a big surprise to find Dimple's and Rishi's parents set an arranged-marriage plan in motion, but it backfires big time—or maybe not?
In the alternating voices of her two protagonists, Menon explores themes of culture and identity with insight, humor, and warmth. I absolutely loved Dimple and Rishi for being unapologetically themselves. Too often I read about characters from my similar background who try to embrace another culture and dismiss their own without understanding it. Dimple and Rishi may not see eye to eye on certain aspects of their culture but accept it as part of themselves without sacrificing their life choices and expectations.
Dimple loves coding and is so excited to win Insomina Con, a competitive six-week summer program at San Francisco State focused on app development, with her creative and lifesaving app. She dismisses her mother's preoccupation with the Ideal Indian Husband and a concentration of being presented as an Indian beauty. Dimple wants to be respected for her intellect and talent. I love the fact that Dimple is described as an average teen who has unruly hair and wears glasses. Finally, a YA character that resembles regular teens! I could definitely relate with her frustrations of her mother constantly comparing her to others.
Rishi is an obedient son who is responsible, a romantic and a dreamer who believes in destiny, tradition, and embraces his culture full on. He is perfectly fine with settling down and starting a family, which is why he brought his grandmother's ring to give to Dimple at Insomnia Con except she has no clue of his or both sets of their parents' intention. Rishi is on his father's path to study computer science and engineering at MIT even though his real passion for comic book art is a hidden one. When both attend the convention and are assigned to work together, things get tricky. It is so much fun watching Dimple and Rishi become friends, drop their walls of defense, and navigate their swoonworthy connection. I also appreciated the fact that the conflict is an internal one for both characters instead of superfluous drama. When Dimple Met Rishi is a heartwarming, authentic, empathetic, and often hilarious, delightful read. It is my favorite contemporary romance read so far this year and I highly recommend it.
Rating:
4.5 stars
Words of Caution:
There is some language and crude sexual humor. There is also a small fade to black sex scene in the book. Recommended for Grades 9 and up.
If you like this book try:
Born Confused
by Tanuja Hidier Desai