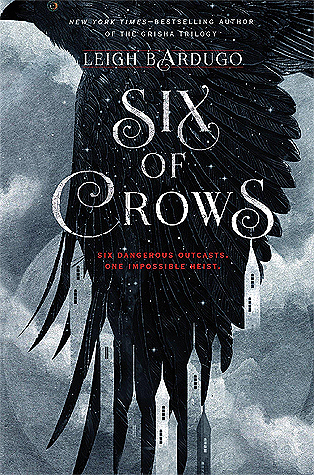 Description:
Ketterdam: a bustling hub of international trade where anything can be had for the right price—and no one knows that better than criminal prodigy Kaz Brekker. Kaz is offered a chance at a deadly heist that could make him rich beyond his wildest dreams. But he can't pull it off alone...

A convict with a thirst for revenge
A sharpshooter who can't walk away from a wager
A runaway with a privileged past
A spy known as the Wraith
A Heartrender using her magic to survive the slums
A thief with a gift for unlikely escapes

Kaz's crew are the only ones who might stand between the world and destruction—if they don't kill each other first.
Review:
Six of Crows
is a heist story set in Bardugo's Grisha universe. This is a standalone duology that can be read even if you haven't read the Grisha trilogy. In my opinion, Six of Crows surpasses the Grisha trilogy. The writing is so much better, the characters are fantastic, layered, and multi-layered, and the plot is a pager-turner filled with action, humor, intrigue, and even some romance. Six of Crows takes place in Ketterdam, a city inspired by the Dutch mercantile setting, is a rich, complex, and dangerous city ruled by gangs who run the gambling dens and brothels. The people who survive in Ketterdam are not easily put in neat boxes of good and evil, but who can bend their morals out of desperation or in many cases when the situation calls for it.
There are six diverse characters in the book and each chapter is told from the character's point of view. While this may sound confusing, but since each character has a distinct personality I did not have any trouble switching between characters. The ring leader and the underworld's rising star is Kaz Brekker, known as Dirtyhands for his brutal amorality. Kaz walks with chronic pain from an old injury, but that doesn't stop him from utterly destroying any rivals. He is very cunning, attuned to people's skills, talents, and vulnerabilities. He also has a secret agenda and will stop at nothing to achieve his goal. When a councilman offers him an unimaginable reward to rescue a kidnapped foreign chemist Kaz knows just the team he needs to assemble.
I loved Kaz, but I also loved the other members of the Crows just as much. There is Inej, a stealthy and itinerant acrobat who was once captured by slavers and sold to a brothel and now works as a spy for Kaz. Inej still believes in right and wrong. She is always morally conflicted with what she has to do though she admits she really has no choice if she wants to survive in Ketterdam. The Grisha Nina has the magical ability to calm and heal. Matthias is the brawny zealot, hunter of Grishas and caught in a hopeless spiral of love and vengeance with Nina. Wylan, the privileged boy with an engineer's skills and Jesper is a sharpshooting, gambling addict and the comedy relief. Like Kaz, each of them has their own reasons for wanting to be involved in the heist. The multiple point of views allows the reader to be inside of the character's heads though I wished I knew more about Wyland and Jesper a little better. Bardugo keeps the reader vested in her large cast by interweaving interesting backstories and dilemmas for each of them.
The plot is full of action, twists and turns, and moves at a feverish pace because once the heist starts nothing goes according to plan. There are subtle romances in the mix and various potential couples, but the romances do not overshadow the plot. Once the book ends you will want the sequel immediately in your hands.
Rating:
4.5 stars
Words of Caution:
There is some strong violence and language in the book. Recommended for Grades 9 and up.
If you like this book try:
Crooked Kingdom
by Leigh Bardugo and for non-fantasy heist check out Ally Carter's Heist Society series.