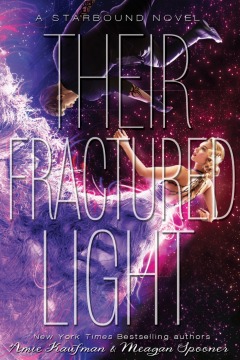 Description:
A year ago, Flynn Cormac and Jubilee Chase made the now infamous Avon Broadcast, calling on the galaxy to witness for their planet, and protect them from destruction. Some say Flynn's a madman, others whisper about conspiracies. Nobody knows the truth. A year before that, Tarver Merendsen and Lilac LaRoux were rescued from a terrible shipwreck—now, they live a public life in front of the cameras, and a secret life away from the world's gaze.
Now, in the center of the universe on the planet of Corinth, all four are about to collide with two new players, who will bring the fight against LaRoux Industries to a head. Gideon Marchant is an eighteen-year-old computer hacker—a whiz kid and an urban warrior. He'll climb, abseil and worm his way past the best security measures to pull off onsite hacks that others don't dare touch.
Sofia Quinn has a killer smile, and by the time you're done noticing it, she's got you offering up your wallet, your car, and anything else she desires. She holds LaRoux Industries responsible for the mysterious death of her father and is out for revenge at any cost.
When a LaRoux Industries security breach interrupts Gideon and Sofia's separate attempts to infiltrate their headquarters, they're forced to work together to escape. Each of them has their own reason for wanting to take down LaRoux Industries, and neither trusts the other. But working together might be the best chance they have to expose the secrets LRI is so desperate to hide.
Review:
Their Fractured Light
is a great series finale to the wonderful Starbound series. The book did a great job in introducing and fleshing out new characters while completing the overarching story. There is also a nice balance between the romance, action, and science fiction that made the reading experience thoroughly enjoyable and the pages fly by.
In this book we are introduced to charming hacker Gideon (aka The Knave) and con artist Sofia Quinn who are trying to infiltrate LaRoux Industries headquarters. Like the previous cast of characters in the first two books, they too have scores to settle with powerful CEO Roderick LaRoux, I really liked Gideon and Sofia as characters. Since they both have been betrayed trust is something that they both have to earn and sometimes risk in order to survive. Both are keeping secrets from each other and as their slow burn romance develops they slowly reveal their vulnerabilities and their walls begin to crumble.
The plot of the book is interesting and all six characters have a pivotal role in the story. Each of the six has lost loved ones as the result of LaRoux's misguided quest to bring about world peace by conquering all the intergalactic countries, and each faces the threat of losing his or her own life as the Whispers take control and power in a plot twist that I didn't see coming. The strong duality of voiced chapters, the tension-filled climax, and the sweet, satisfying conclusion made me extremely happy. I'm so sad to leave these characters behind, but I guess that's what rereading is for, right?
Rating:
4.5 stars
Words of Caution:
There is some strong violence and minor language. There is also a fade to black sex scene in the book. Recommended to Grades 9 and up.
If you like this book try:
Illuminae Files
series,
Across the Universe
by Beth Revis