After reading and thoroughly enjoying
The Rose Society
, the second book in the Young Elites series by Marie Lu, I had high expectations for
The Midnight Star
, the series finale, but unfortunately my expectations were not met.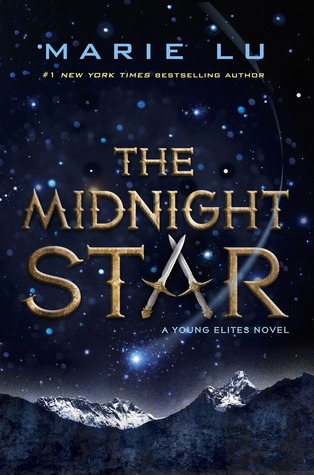 Description:
Adelina Amouteru is done suffering. She's turned her back on those who have betrayed her and achieved the ultimate revenge: victory. Her reign as the White Wolf has been a triumphant one, but with each conquest her cruelty only grows. The darkness within her has begun to spiral out of control, threatening to destroy all she's gained.
When a new danger appears, Adelina's forced to revisit old wounds, putting not only herself at risk, but every Elite. In order to preserve her empire, Adelina and her Roses must join the Daggers on a perilous quest—though this uneasy alliance may prove to be the real danger.
Review:
The Midnight Star
is just an okay conclusion to the Young Elites trilogy. While there is plenty of emotion and action, it still feels underwhelming and rushed. Adelina Amouteru, once a hated malfetto, is now rapidly becoming the queen of the known world. Her Kenettran army has conquered many lands from Domacca to Dumor. Her inquisitors enforce her harsh rule, and malfettos have free rein to mistreat their former tormentors. It has become clear that Adelina's abilities have been affecting her with invisible voices fueling her paranoia of enemies and distrust among her allies. Meanwhile the Young Elites are all struggling with their powers gone awry. There is an imbalance in the world, and it can only be fixed if the Young Elites and the Rose Society can work together.
I really liked the overall plot of the book. I found the inclusion of religion and the gods in the world that Lu created to be fascinating and I wanted to know more. I appreciated that the series held on to the strong female relationship between Adelina and her sister Violetta though I wished Violetta had a stronger role in this book. I was disappointed that we didn't see Adelina further descend into darkness since this book is ultimately about her redemption, which I felt she achieved too easily and quickly. I was also hoping for more character development for Magiano and Enzo, but there was hardly any and at times it seemed like Lu didn't know what to do with them. Overall,
The Midnight Star
was a decent conclusion but in my opinion it is the weakest book in the entire trilogy.
Rating:
3 stars
Words of Caution:
There are some disturbing scenes and violence. There is also an allusion to sex in the book. Recommended for Grades 9 and up.
If you like this book try:
The Darkest Minds
series by Alexandra Bracken,
Control
series by Lydia Kang,
Steelheart
series by Brandon Sanderson